By Nathan
This is an article I meant to write near the end of last year, when Disney announced that it had acquired Lucasfilm and all its properties (although I'm not sure if they picked up Mishima: A Life in Four Chapters or not…). It's also something I meant to write yesterday, what with it being Star Wars Day and all. But alas, I didn't get around to it either of those two times, so it's now that I sit down at my computer to plop this story onto the screen in front of me.
What is this story? It's the story of two kids, one stuck on a moisture vaporator farm in the outer reaches of the Dune Sea, the other in his suburban home in Central Texas. This is the story of one kid who spent his days blasting womp rats in Beggar's Canyon with his T-16, and another who took up his time reading encyclopedias and exploring the jungle-like drainage ditches behind his home. This is the story of Luke Skywalker and me.
I don't remember the first time I saw Star Wars, but I had to have been at least 4 or so. I have racked my brain so many times in an attempt to recover this misfiled memory, yet I can't remember it. It's too bad, as this is probably one of the significant moments in my young life. You see, Star Wars made me who I am today, probably more so than any other thing in my life that is not a living person. It's probably impacted me more than most people, too. Without Star Wars, I would not be here at this exact moment in time at this precise point in space.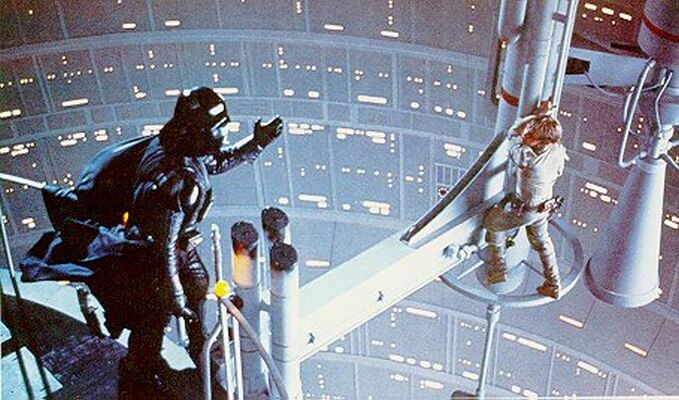 Just like it is hard to remember the first time I saw Star Wars, it's also hard for me to understand why it struck me in such a life-altering way. Maybe the archetypal themes and ideas explored within the films meshed with my juvenile need for order and stability, but I know that this is just a load of malarkey. Maybe it appealed to my childlike sense of curiosity and wonder. Or maybe I just liked space battles. The truth is that I will never know. The only things I can know are how I feel every time the 20th Century Fox fanfare begins playing, or the swelling I get when the main theme begins and the words "Star Wars" pull back into the far reaches of space, or the absolute awe I experience when the Rebel Blockade Runner darts through the blackness above Tatooine, hotly pursued by the jaw-dropping Imperial Star Destroyer. I can only express the bone-aching sadness I feel when I hear Luke scream "NO!," the tenderness inside when Leia says "I love you" and Han calmly responds "I know," the solemn strength I draw from the celebration scene on Endor and Darth Vader's funeral. These are the only things I really know.
As a child, the idea that someone could dislike Star Wars or, perhaps worse, not even have seen it was completely unbelievable to me. So much of my world spun around the axis of these films. In elementary school, there were some people whom with the only ground I shared was Star Wars, and in this way, we were able to become friends. There were friends I had lightsaber duels with, friends I shared potential plot details of the next movies with, and even one friend I bonded with only because I knew he owned Lego Star Wars and I did not. Star Wars found its way into every conversation I had with others, into every drawing I doodled while listening to lectures at church I absorbed but didn't really understand, into every story I wrote in my spiral-bound school notebooks. My early attempts to impress the womenfolk were drawn from things I had gleaned from Han Solo and, later, Indiana Jones (it took me awhile to get to Raiders of the Lost Ark because the face-melting scene absolutely destroyed my youthfully weak bladder), although my rendition of these lines lacked the finesse of their original deliveries. I read my collection of Star Wars visual dictionaries and guides over and over again until the words and images became firmly etched in the recesses of my mind. I remember one moment on the playground in which one of my friends told me that I knew more about Star Wars than anyone he had ever met. It was my proudest accomplishment, and I quickly became even more of an oracle of information about the Star Wars saga as I got a little older and a little more adept with both a library card and the internet, turning my sights to the paradise of the Expanded Universe. Soon I started taking in websites about Star Wars and reading even more books on the subject, and at present count, I own over 20 books and 50 action figures related to the Star Wars universe. I still have the ticket stub for when I went to see Revenge of the Sith and I still remember the warm rush of tears I felt down my face as my favorite film series ended.  At this time in my life, I was a little like Luke Skywalker, looking toward those twin suns with hope and wanderlust.
Yet as I became older, Star Wars also made things more difficult for me, as it and my voracious appetite for history books began to lead me down the awkward road to nerdiness. I wore the badge of "geek" with pride, obtaining a wallet solely for the purpose of having something to carry around my Official Star Wars Fan Club membership badge with. As I entered middle school, my obsession grew stronger while others swiftly placed these childhood delights in their memories. I became a little like C-3PO, someone who took himself and his endeavors very seriously, yet someone who others just wished they could turn off. In quiet moments I sometimes even began to wonder if this was worth it. Was it worth enduring bullies and social ostracism just because I liked a movie every one else seemed to have forgotten years ago? Was it worth missing out on potential friends just because of the things I liked? There were periods of time where I forgot what I felt when I watched Star Wars and became embarrassed of my favorite movie, replacing it instead with The Godfather or Dirty Harry or whatever "grown-up" flick I had managed to catch an hour off on cable. I'll be honest, I have always felt a slight discomfort around people who self-identify as "nerds," mostly because the only thing that kept me firmly rooted in nerd-dom was Star Wars. While after fifth grade I got into things like Runescape and The Lord of the Rings and Frank Herbert's Dune, and for a time even became a serious frequenter of blogs and websites run by adults who still built with Legos, I was never into, say, Dungeons and Dragons or anime or anything else that it seemed like I was required to like as a self-described "nerd." Yes, I did my time as a serious-minded video-game aficionado, despite the fact that I barely owned any video games of my own, and I even became a heavy fan of geek rock and nerdcore musicians like Jonathon Coulton and MC Frontalot, but I think this was more of a way for me to fit further in with nerds, or the closest thing I had to a group of like-minded people. At the end of the day, I owe being a geek to Star Wars.
While my interest in the Star Wars universe itself was swelling, my fascination with how these movies were made grew as well. I began reading about the life of George Lucas and the making of Star Wars, which lead me to other places in cinema history: it lead me to Pixar, to Steven Spielberg, to American Zoetrope, and eventually to the New Hollywood movement. George Lucas became my personal bearded savior, my guide to life and to the movies. He was my Obi-Wan, my Yoda. It is because of him that I realized my true passion: filmmaking. I began encountering names like Kurosawa and Godard, but I had no idea who these people were, or what they really had to do with anything. Nevertheless, as I mentioned in my recent post about Roger Ebert, the insatiable curiosity I had regarding anything Star Wars caused me to seek them and their works out. But seeing that I lived in a relatively small town in Texas with only a few small video stores to its name, my cinematic voyage would be delayed for a few more years, until the advent of Netflix.
Which brings me to my next point- Star Wars and the Internet. I owe a great deal of who I am to the Internet, as it provided a refuge for someone like me, who often has a hard time fitting in. I many times became lost in a Wikipedia wormhole, discovering movies and people I had never heard of. As an 8th grader I was able to see Koyaanisqatsi thanks to George Lucas' Wikipedia page, which told me he had produced its sequel, which told me about the first movie, which led me to do a Google search, which led me to Hulu (then in its infancy), where I could view the film in its entirety. A short time later my family signed up for a Netflix account, allowing me to finally view many of the films which inspired my hero, in turn giving me inspiration of my own.
I have always loved stories and images, as shown by my early dreams of being an author, a historian, and a computer game designer, but through Star Wars and these other films I was able to synthesize my passions and realize my true dreams. Because of Star Wars, I knew what I truly wanted to do. I wanted to make movies. I wanted to take the ideas in my head and throw them up on the big screen so I could share them with everyone. While the types of films I want to make have changed drastically over the course of my life, these ambitions and dreams have remained the same for a very long time, and it is because of Star Wars that I was able to realize them.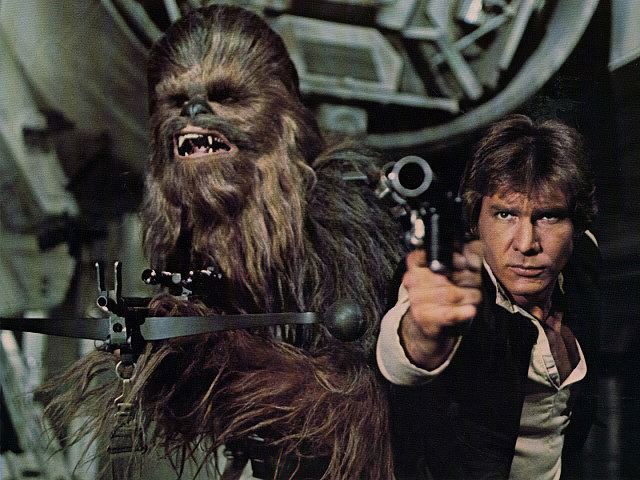 My love of Star Wars waned as I entered high school, not by choice, but mostly because my eyes were captivated by other films. But by sophomore year,  I recognized that it was okay to like Star Wars. I no longer had those quiet moments of doubt that I'd felt before. I was accepted into the film class at my school and found other like-minded people. For the first time in my life, thanks to Star Wars, I felt completely comfortable around a group of folks my age. I became less like C-3PO and more like R2-D2 or Chewbacca: a guy no one really understands but is still beloved by all, or at least many.
It was also sophomore year that I watched all the original Star Wars films again, as part of our unit on archetypes. While we viewed the 2004 special editions, which are obviously inferior in many ways to the original cut, I must say, there have been few movie-watching experiences as delightful as this. I felt that almost everyone in that classroom was as enraptured and in awe of the films as I was, even if they did keep talking. It was deeply powerful and I felt truly moved. But watching them again, I saw these movies in a different way.
As a kid, Star Wars was perfect, and it felt so real. It was my world. But now, especially with the added digital effects of the special editions, it doesn't feel as real. It doesn't feel quite so perfect. I think, metaphorically speaking, that says something about me and how I've changed. As a kid, I don't remember much going in the world around me. I don't remember the Clinton presidency, or Kosovo, or Columbine, or anything leading up to 9/11. But now I'm hyper-aware of what's going on in the world and I constantly worry. So I definitely recognize that the world has flaws, many of them. I see the world through different eyes than I did as a kid. I'm still able to look at the world with a sense of wonder, but I also see all its imperfections. I guess what happened was that I saw the flaws in the world and then I saw the flaws in Star Wars. But even though I now see some of the flaws in Star Wars, I still feel that sense of awe and wonder. Yes, it's not perfect, but it's powerful. I suppose that says something about life.
There are a lot of people out there, even people who love Star Wars, who hate George Lucas. There may be periods of time where I am angry with the man, even furious, but I cannot bring myself to hate him. I was five when The Phantom Menace came out, so naturally I loved Jar-Jar Binks. I also grew up with the 1997 Special Editions, so it's only through my grown-up eyes that I'm able to scowl at the new inferior-looking CGI effects. I only have a bunch of little tiny reasons to hate him. And all the reasons that I should love him outweigh those negatives. Without this quiet, steel-minded man, I would not be who I am today. You would not be reading this blog today if it was not for him and the film he made. I love Star Wars with all my heart, and the day I stop loving it is the day I stop living. I don't know where the saga will go with these new films and I'm incredibly apprehensive. But at the same time, I still have that same sense of hope I feel every time I watch Star Wars. Even if J.J. Abrams ruins everything, even if the cow is milked until it can give no more, I will still have my memories and experiences, the ones that have molded my personality and shaped who I am.
At the beginning of this piece, I said it was the story of Luke Skywalker and me. I think I've come full circle as I prepare to graduate high school and move into the world beyond, meaning that I think I'm like Luke Skywalker again. Maybe as a kid I was like Luke Skywalker in the first Star Wars, hopeful but a little over-eager and a touch too whiny. But now I think I'm like Luke Skywalker in Return of the Jedi. I've faced my demons and am prepared to move into the future with a stern resolve. I don't know what the future holds, but I do know that no matter what happens or where I go, I will always have Star Wars. So thank you, George Lucas, and God bless you.
(I know it's a form of heresy to post a link to the 2004 Special Edition ending of Return of the Jedi, and I hate Hayden Christensen as much as the next guy, but I couldn't find a clip on YouTube from the 1997 Special Edition, whose "Victory Celebration" is in my opinion superior to the original's "Yub Nub." Plus, this one had the funeral pyre, one of my favorite scenes in all of the movies. I think it's a fitting ending to everything I've been feeling.)